Magnum Rock Art Critical Thinking
In 1985, Janee Harteau was the lead singer for a Top 40 pop/rock cover band in Hibbing. "I was going to law enforcement classes at Hibbing Community College during the day," Harteau recalls, almost 30 years later in her big new office inside Minneapolis City Hall, "and I was gigging out at night." Her band was called Magnum. "Funny, right?" she says.
But the fact that the new Minneapolis police chief used to sing Pat Benatar's "Invincible" and Night Ranger's "Sister Christian" in Hibbing bars as a 19-year-old community college student isn't just an amusing pretty cool for a cop footnote to her story. It's a key part of who she is.
Chief Harteau made time for a couple of hour-long conversations running up to her swearing-in ceremony during the first week in December, one in her office (newly vacated by outgoing chief Tim Dolan) and one in one of the department's sleek black Chevy Tahoes, driving around the Third Precinct Chicago-Franklin neighborhood she used to patrol back when she and her partner, Holly Keegel, were known as "Cagney and Lacey."
As she talks about her decision to become a cop, her steady rise through the ranks, and her struggles to be accepted by male officers, it becomes increasingly apparent that Chief Harteau can be all things to all people. She's a breath of fresh air—and many hope a game changer—in a department that has had a bumpy ride.
Harteau's confirmation served as the proud debut of the police department's new face.
Her confirmation hearing was a verifiable love-in where not one negative comment was raised. People from all over the city came up to tell council member Don Samuels and the rest of the public safety committee how qualified Harteau is for the job: bar owners from downtown, small business leaders from the West Bank, Baptist ministers from the North Side, chamber of commerce types, people who volunteer at the homeless shelters, neighborhood organizers from south Minneapolis, tribal reps from the American Indian Center on Franklin. Sharon Lubinski, who graduated from the same academy class with Harteau in 1987, went on to become the city's first openly gay assistant chief in 2009, and is now a U.S. marshal, was just as effusive as everybody else. "Janee is what the community really needs," she said.
Whether Harteau inspired or orchestrated this turnout, or whether it was a combo platter, she produced an impressive urban coalition. In his closing remarks, Samuels said that as each citizen approached the mike to testify on Harteau's behalf, he felt the urge "to walk out there and give you a hug."
But the day before, in her office, Harteau seemed uncertain about who exactly was going to show up. She wondered if "maybe some of the Duy Ngo people would be there." Ngo is the Minneapolis police officer who was shot by a fellow Minneapolis cop while working undercover in 2003. He eventually settled with the city for a record $4.5 million in 2007 before committing suicide in 2010.
His death has become an avatar for the shadowy blemishes lingering within Dolan's department—one marked by misconduct, excessive-force settlements, charges of discrimination, and secretive dismissals. There was the Gang Strike Force that was shut down in 2011 and the five black officers who filed suit saying their careers have been blocked by the MPD, among others.
But none of that stuff came up at Harteau's hearing. Not one dissenting voice approached the mike. It was a new day for the department. The proud debut of its new feminine, brown, gay face.
After the committee voted unanimously to recommend Harteau's confirmation for the position for which she had been nominated, a group made its way to a conference room where Harteau deftly answered questions from the press. She was pure grace in front of the microphone. "Sometimes a cop isn't very good at asking for help, but we need to work together," she said, rocking the same Joan Jett '80s haircut she wore (only less spiky and with subtle blond soccer- mom streaks) back when she covered Pat Benatar songs in a Hibbing bar.
Here she was, Chief Harteau, a lead singer who had found her stage. A rock star of a police chief, playing exactly the sort of tune Minneapolis wants to hear. It felt like the beginning of one of those E! Behind the Music shows.
There is also a side to our new chief that is wary of the limelight. She is a cop, after all. "You know how we are," she says. "We don't like being on TV." But in August of 1990, her commanding officer asked Harteau and her partner if they would volunteer for the FOX television show Cops. The show was filming in the Twin Cities early in its second season, producing an episode featuring female police officers. "Even in 1990 there weren't a lot of female partnerships," Harteau says. They filmed Keegel and Harteau responding to typical calls as they worked the 7 pm to 3 am "power shift."
The duo had been on-the-job partners for a couple of years and had really found their groove within the Third Precinct neighborhood. "We were both good cop," Harteau says. "We were both empathetic and tough. I will say I was a little more willing to let somebody off with a warning." The show captured the good-cop-and-good-cop vibe of their working relationship and also showed footage of the two of them having fun after hours. "Holly was playing keyboards and I was playing drums," she says. "I had just bought a drum kit and we were goofing off. They asked us to show a personal side."
"A good cop can turn on compassion when you need to but also KNOW how to take care of business. You know how to treat people fair but not equal."
Harteau says the two of them got some pretty pervy fan mail from across the country. " 'I like your outfit.' 'I like your gloves,' " she says. "It was a little stalkerish." But she laughs it off.
They also got razzed by their fellow cops. That wasn't anything new, because it was happening all the time. And it was nothing to laugh off—it got ugly. Harteau grows uncomfortable when she talks about this segment of her career, even though she's had to discuss it many times over the years and many, many, many times recently. It wasn't just teasing over the star turn on Cops, or her and Keegel being dubbed "Cagney and Lacey." Some of the male officers cut into Harteau and Keegel's radio signal when they were calling for backup, and stolen property was planted in the glove compartment of their prowler.
Eventually Harteau and Keegel complained to Internal Affairs. When those complaints were ignored they went to the Equal Employment Opportunity Commission. The EEOC was able to mediate the situation to their satisfaction. The officers involved were reprimanded and policy changes were implemented.
"It's a chapter I've pretty much closed," Harteau says. "And I don't remember many of the details, but there were changes in training and response to people's complaints." But you can tell the incident still bothers her, and she still finds the competition between the sexes unsettling. "I thought we were all on the same team," she says. At the time, her fellow officers didn't know that she and Keegel had fallen in love. "But people struggled with the fact that we weren't dating them," Harteau says. "I didn't want to date a cop to begin with."
Her romantic involvement with Keegel was a first on two fronts: first cop and first woman. "I had wonderful boyfriends before that, but I'm a strong person. And I think it takes a really strong, together person to tolerate me, frankly," she says. "I fell in love with my best friend. I didn't expect it, nor did she, but some people find their soulmate and some people don't. We're fortunate that way. But that added to our struggles and it ultimately made us stronger."
Harteau and Keegel, who is now a sergeant in the department, are still together. In 1999, the two of them adopted a baby girl from Guatemala. "We're both the mainstays of our families," Harteau says. "Kind of the matriarchs. We have the longest relationship in our families."
Harteau grew up in Duluth, and her birth father left her mother when she was 10. Her mom raised her and her two sisters on a teacher's salary. Eventually her mom remarried. Harteau thinks her Chippewa heritage from her birth father's side is important, but for the most part she grew up in a Scandinavian-Catholic household. "Both Holly and I were raised Catholic," she says. "We had our daughter baptized, but we both struggle with the Catholic Church—I don't think God would like to have people so judgmental."
Just like the Native American thing and the woman thing, this is complicated territory and Harteau is wary about being placed in a box that she didn't get to pick out. Yet she also seems aware of how she's perceived and how the perception of all this identity stuff has shifted as she's advanced upwards. In the city where she works and the political apparatus that nominated her, all of this is seen as an asset in a chief. She believes it's an asset too. She's a believer in diversity and community. She knows how to say the right thing. But she still seems slightly annoyed she won't be recognized as just a good, smart cop until she gets even further beyond these boxes. "Outside of the fact that we're both women," she says, "we would be looked at as this great American couple."
After you see Harteau on the job a few times, her ambition becomes palpable. But she isn't one of these people who grew up wanting to be somebody in uniform. She was a 17-year-old Duluth Denfield graduate studying to be a medical secretary in Hibbing. "I wanted to be a singer," she says. "But my mom said you have to have something to fall back on. That stuck with me." But medical stenography was so b-o-r-r-ring.
So she trusted her gut and switched programs. She has a good gut. Thirty years later she's in charge of a department with 850 officers who answer 400,000 calls a year. She has been promoted steadily from officer to sergeant to lieutenant. She has been appointed to inspector, to assistant chief, and now to chief of police. She went back to school in 2004 to get her bachelor's degree and a master's degree in 2006 from St. Mary's University in Minneapolis. Now she's on the faculty at St. Mary's, where she teaches a course called "Demographic Influence on Policing." She's also an adjunct professor at Northwestern University in Illinois.
She wants the department she just took over to be a model for other departments in the state and the country. She's obviously committed to constant education and seems comfortable with change in a way that seems unprecedented in a chief of police.
But in order to become a transformative chief who won't disappoint all your rabid fans, you need a hit. What will be her first hit? Dolan left behind some trouble spots, but he didn't leave a department in crisis. Crime is changing: Identity theft and other kinds of cyber fraud are on the rise, and human traffickers are targeting even younger and more vulnerable victims.
The new chief will have to deal with those. But the place she has the most opportunity to make change is with the workforce. The Minneapolis Police Department has an aging workforce, and Harteau plans to focus on finding the best and brightest to replace retiring officers. Under her watch, what a police officer will look like and sound like in Minneapolis could change dramatically. "Not too many years ago," she says, "we identified talent based on size. Then it became based in training: making arrests, officer survival, handling critical incidents. That's where we're good. Where we miss the mark is community relations, public trust, all those service components."
She wants to develop talent once she has it in the department, but she also wants to start identifying it even earlier externally, finding and recruiting officer candidates at a younger age, before college, before they run off and commit their lives to covering Pat Benatar songs.
Harteau Highlights
The new chief of the Minneapolis police climbs up the ranks.
1985
Attends Hibbing Community College, fronts a cover band called Magnum, and considers a career in medical stenography.
1986
Graduates from Hibbing Community College as a licensed peace officer. Joins Minneapolis Police Academy. Members of her graduating class include future assistant chief and U.S. marshal Sharon Lubinski.
1990
Assigned Holly Keegel as her partner for the "power shift" (7 pm to 3 am) patrol of Franklin & Chicago neighborhood in the Third Precinct. The two are known as "Cagney and Lacey."
1995
After finding deaf ears at Internal Affairs, Harteau and Keegel complain to the Minnesota office of the U.S. Equal Employment Opportunity Commission about harassment from fellow officers. The EEOC finds the case in their favor. Internal protocols are changed and some officers are reprimanded.
1998
Promoted to sergeant, assigned to Licensing Division and the Downtown Command Street Patrol and Gang Units.
1998 & 1999
Publishes personal safety guides with co-author Keegel
2004
Graduates with a bachelor's degree in political science from St. Mary's University of Minnesota. Promoted to lieutenant. Assumes command of the Crime Lab and Licensing Division.
2005
Graduates from Northwestern University's Police and Command Staff School.
2006
Graduates with a master's degree in public safety from St. Mary's. Appointed first inspector of the First Precinct by Chief Tim Dolan. Becomes a professor at St. Mary's.
2009
Appointed deputy chief of the Patrol Bureau.
2011
Promoted to assistant police chief.
April 2012
Mayor R.T. Rybak announces he intends to nominate Harteau to replace outgoing Chief Dolan.

October
Officially nominated by Rybak.

November
Council approves nomination.

December
Sworn in as Minneapolis's 52nd police chief.
Chief Concerns
Harteau on being a good cop: "We all want the same things. We all want to be respected. A good cop can turn on compassion when you need to but also know how to take care of business. You know how to treat people fair but not equal."
On education: "I'm a lifelong learner. I'm always trying to train and educate myself. I don't have higher expectations for others than I do for myself. Come to work, you learn, you do the right thing. If I'm a victim of a crime, what kind of cop do I want to show up?"
On keeping a fresh perspective: "I like to stay somewhat childlike and ask a lot of whys. And my 13-year-old keeps me in that mode, too, because she asks a lot of whys. And you know what I end up saying? 'You know, I don't know! Why can't we do something else?'"
On leadership: "Hierarchy is for decision-making but not for innovation. So that's when you flip the pyramid upside down and you allow the people who do the work to be innovative and come up with the ideas. But when it comes to decision-making, that all rests top-down. Because at the end of the day, I'm not going to blame down. The only person I'm going to blame is myself."
On policing: "What we're looking for in policing has changed a little bit. Before I started, it was how big you were, how strong you were. Now it's about building relationships. We're not just law enforcement officers; we're problem solvers, we're collaborators, we're community leaders. So you need all those other things when it comes to arrests, but we need different skills now. So we need gifted communicators. Let's face it, everything we do involves people—good people, bad people. We tend to see the worst sides of people, but you build those partnerships and you can see the best side of people."
While Wendell Castle has incorporated modern technology into making his sculptural furniture, the storied artist still starts with pencil and paper
Of all of the studio's tools, analog or digital, the pencil is still Wendell Castle's favorite. To him, drawing is discernment. His love for the tactile nature of making marks is palpable; his description of the weight of the hand-drawn line borders on the romantic. And while he's incorporated certain aspects of the digital age to aid in the creation of his monumental, sculptural furniture, he adamantly maintains the human touch of his craft. This month, "Wendell Castle Imagined: A Revelation of Creative Process" opens at the University Gallery (at Rochester Institute of Technology, where Castle is an artist in residence).
With a career spanning more than 50 years, Castle is widely spoken of as the pivotal figure of the Craft Furniture Movement. RIT's exhibition of dozens of drawings and scale models from throughout his career provides an insight into his methods and unique aesthetic, and there's an emphasis on the processes and philosophic thought that characterize his internationally recognized artistry.
At 84, Castle has the sage nature that his years have earned, and the energy of a much younger man. He keeps his slight frame honed for labor with bi-weekly games of tennis, and has a collection of vintage sports cars that bear him around in style.
When asked to further illustrate an idea he's discussing, he's quick to jump up and retrieve a model from another room of his labyrinthine workspace. He operates his Scottsville studio like an old-school workshop, with assistants learning from their master-craftsman employer. And the production of tables, chairs, and benches inside his studio can't keep up with his idea output.
Even as he oversees the various stages of production of about a dozen works at once — some of which are bound for his New York City gallery when complete, while other full-scale models will be shipped to the foundry at his Paris gallery to be cast in aluminum — he's eager to begin production on several drawings and models he's worked up for a 2018 show in Kansas, his home state.
PHOTO BY MARK CHAMBERLIN
Wendell Castle in his studio.
In-progress projects include a long, leaf-shaped table top supported by metal cantilevers hidden inside a cluster of monolithic stalagmite-like forms on one side of the surface. Another work is a smaller table made of a cluster of oblong ellipses that are evenly truncated at the tops to create a series of plateaus.
A two-person chair has a square-shaped hole in the back of one seat. When asked about the cut out, Castle is elusive. "If there was any continuity and logic in there, I wanted to throw that outta whack," he says. "There is no reason."
Many of Castle's current creations tend to hold space hostage. For example, a newer design includes a seat and small table surface that subtly emerge from one side of a solid block of wood. This block will be made of a laminated stack of planks, but refined to a finish that hides that fact.
"Generally speaking, larger is more powerful — not always, but often," Castle says. "As soon as you start making your work larger, you're narrowing your audience by a great deal. I do it anyway, and that's not logical. But art isn't logical, and I'm more interested in things that have to do with art than with useful design."
Castle is fascinated by the concept of intellectual bafflement. "Something that you don't immediately understand at first glance makes you think about it," he says. "And I think it's really important — to make people think about it: 'What is this, and why?' — that those are not givens, not obvious."
Some of his work may not even be perceived as furniture if approached from the back, Castle says. "Even when the object is identified as a chair, you might think, 'Why would anybody do that?' But I think that's a really important part."
Inside the studio with Wendell Castle from Alex Freeman on Vimeo.
Castle is a highly contemplative, particular man. His candor is thoughtfully measured and soft in tone. He carefully takes everything in from behind his iconic small, round, colorfully-framed spectacles.
"Talking is thinking," he says. "Questions are really important — how you phrase the questions. I'm careful. I would never go to someone, whether it was my dealer or a person in the shop, and say, 'I've got this great idea. What do you think?' You are not going to get an honest answer."
People phrase questions knowing that they want a certain answer, he says. You might get the answer that you wanted, but you didn't learn anything.
click to enlarge
PHOTO BY MARK CHAMBERLIN
Castle's drawing of his 1964 "Music Rack," which is collected by the Memorial Art Gallery.
"I put critical thinking at a very high level, right from the beginning," he says. "When you're all done drawing, and you lay out the drawings to make decisions, deciding what piece to do, that's a whole process."
Which drawing looks the best is only one point in the list of criteria, he says. "You have to consider, 'is this in keeping with how I think about things, from the beginning, or is this some kind of outlier thing, that really doesn't seem to have much to do with what I've been trying to say for years?'"
Then he considers whether the idea has legs — can it be interpreted and flow into new ideas, or will it be a dead end? "If that's it, I wouldn't do it," he says.
Castle puts his drawings through those questions long before he carves out miniature urethane models of the future furniture. "I really do want to weigh things without my thumb on the scale — which is so easy to do," he says. "But it doesn't mean that in the end it will be successful just because it meets all of the criteria."
He says that in different points of his career, he's taken chances in directions that people did not expect from him, and some of these directions have been successful. "Except it was not rewarding to me," he says. "The most important thing is that it needs to be rewarding to me."
One such instance was his flirtation with trompe l'oeil sculpture in the 1970's and 80's.
"From the very beginning I wanted to raise furniture to the level of a fine art," he says. "The question was how to do that. The early thought — and I think I was correct — was to use sculpture as vocabulary. But at some point, I began to wonder, 'Is there another way?'
His interests settled on trompe l'oeil due to the genre's uncontested association with fine art. But he still needed to connect that aesthetic to furniture, "because that was where I was going to make my mark," he says. "So what I carved were an umbrella in an umbrella stand, a coat hanging on a coat rack, a purse lying on a table, things like that."
These works were executed successfully — a sculpture of a chair balanced upside down on a pillow is perfectly realistic, as if the weight of the chair is pressing into a downy cushion. And many pieces found homes in public and private collections.
click to enlarge
PHOTO BY MARK CHAMBERLIN
An installation view of Castle's drawings at University Gallery at RIT, on view through November 11.
Castle is particularly critical of his trompe l'oeil works' elements of furniture. "I really didn't make a unique design, I borrowed from historical examples," he says, "the reason being that trompe l'oeil work looks like every day recognizable things. If you made it with funny looking furniture or objects, it wouldn't work. It works because your brain does not need to study things you're familiar with to know what it is. There is no real use of your brain, just instantly you think you know what you're looking at."
He says he initially took up the technique for a challenge, since the carving would have to be so well done. "I was also determined not to use color, and it still fooled people," he says. "But the problem was, that once you've figured out this formula, what's the fun in doing it? Once I knew what worked, I didn't want to do it anymore."
Dead ends in discovery are to be avoided at all costs. But through much trial and error, Castle has become adept at predicting which avenues will lead to an under-stimulating impasse.
"I did not know anything about art as a child," Castle says. "In none of my early childhood education were there any art classes." He attended a small rural school in Kansas where art wasn't even offered in high school.
"Art had never occurred to me as a thing I could do," he says. "I did draw as a child, a lot. But my drawings were not valued, and none were saved."
His tone becomes wistful as he recalls the limitations of his childhood. "I wasn't particularly good at anything," he says. "I was a very average student, and I'm dyslexic, so that made school very difficult."
Castle says he was "more or less sent" to a small liberal arts college, where he had the chance to take an elective, and chose the only art course. "For the first time in my life, I was the best one in my class," he says with a warm smile. Recognizing his talent, the professor suggested that he switch to a school with a good art program.
Though his parents did not support this decision at the time, he says they reconciled with his career choice "50 years later, but gradually. There wasn't a specific moment that they recognized that what I was doing was legitimate, that I was successful at it," he says.
While attending art school, Castle had no intention of making furniture. Instead, he developed an interest in sculpture, "although I had no idea what my vocabulary should be," he says. "So I'm a reluctant furniture maker. But I recognized, at some point a year or two after completing my master's degree that I could use exactly the same thought process and exactly the same way of working, and it would be furniture instead of sculpture."
He says that he rationalized that he wasn't abandoning a superior art form, and would make furniture that could be as highly valued as sculpture.
In a corner of Castle's studio there is a series of architect's flat files containing sketches that if stacked, would be about 10 feet tall. There are two closets in the programming room that are also packed with drawings. A pencil and paper have been constant companions.
click to enlarge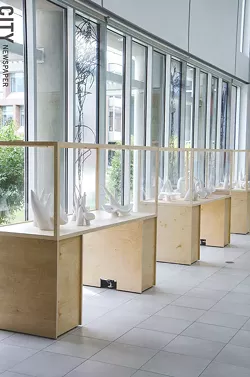 PHOTO BY MARK CHAMBERLIN
An installation view of some of Castle's urethane models at RIT's University Gallery.
Castle doesn't wait on magical fits of inspiration to get started. "I put pencil to paper sometimes with no idea," he says.
He says he's experienced "eureka!" moments, "but they've never been any good. The only ones that have ever been good are the ones I've worked very hard at, and drew them many ways. I'll draw the piece over and over again, because I think I'm learning something while that activity is happening."
But more often than not, his new drawings are an extension of something else. "Because what you see as you're making something, often, is that there would have been another way to go," he says. "But I don't stop midstream, I finish what I started, because it may not have been a better idea. It's hard to know."
The hand-carved model stage is an important component, he says, because "it verifies. Once you have a drawing that has passed that test, answering all of these questions, the next stop is the model."
The model gives more information about the piece — it's front, back, and side views, and the particularities of texture — bringing together how the entire piece works out in three-dimensional space.
When this stage is complete, the model is 3D scanned, preserving each little nuance of the artist's hand.
Though he's added digital technology to aid in realizing his designs, Castle does not design on the computer.
"The computer wants to fix what it perceives as mistakes," he says. "If your design has a big curve, and all of a sudden there's a little blip in it, the computer would fix that."
Castle speaks strongly about the "direct connection between the pencil and the brain. I think drawing and thinking really mesh, and with the computer, there's a distance between them," he says.
He cites the work of late architect Zaha Hadid as an example of how others have used technology in a way he chooses to avoid. "You can just tell that was all designed on the computer," he says.
But due to our cultural obsession with technological capacities, Castle is finding that the sketchbook is being forsaken. "I'm finding that students today can't draw," he says, openly frustrated by the idea.
"It's a language to communicate with people in the studio," he says. "If someone says, 'What do you think of this idea?' or 'How do you think we should build this?' but they have drawn it in poor perspective, there's no point in discussing it."
Castle says he thinks that schools are contributing to illiteracy in draftsmanship as technology takes over, with curricula's increasing emphasis on computer skills. "The computer will do a lot of things that drawing can't do," he concedes, "but it can't do the very basic thing of working at an idea, and deciding if it's a good idea."
"And think that drawings have personality," he says. "Now that may not be very important in making a product, but it resonates with me, that the drawing is drawn in a way that I like, with line weights that I like. That I have a certain signature about the way I draw."
For Castle, technology only enters the equation when the model is 3D scanned and a code is created to make a tool path for his studio's 5,000-pound, room-sized robot, which is outfitted with a router and nicknamed Mr. Chips. Once stacks of planks have been laminated for a specific piece, it's the robot's job to mill the basic forms of the piece down the stack. Castle uses the technology to more perfectly pick up and retain the elements of human touch.
click to enlarge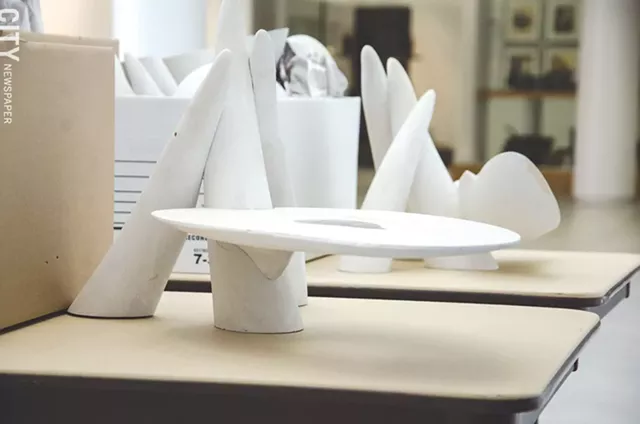 PHOTO BY MARK CHAMBERLIN
Castle hand-carves models of his furniture designs from urethane, which will be 3D scanned to maintain every detail.
"We get all of these imperfections, which I want," Castle says. "By the time it gets to the computer, the creative process is essentially over," save for a few occasional tweaks. "We've narrowed it down to the most difficult — and in many cases impossible — woodworking tasks," he says.
For example, many of his tables and chairs have conical or elliptical legs, with compound curves that nestle perfectly against one another. The robot is able to rout the stacked wood into forms that are perfectly flush with one another. Through hand carving, he says, "all you'll ever know, unless you have x-ray vision, is how it fits on the outside."
Castle works primarily with ash because it's a hard wood and resists scratching, and has an open grain. Before applying stain or varnish, the surface is often wire brushed to further open up the grain and show off the natural, undulating patterns. And though its future is dubious thanks to the Emerald ash borer beetle, ash is currently readily available in knot-free high quality.
Unlike many high-end furniture makers, Castle doesn't have a catalog that patrons can select from to order; when he's done with an idea, he moves on.
"I joke about it and say I have a short attention span, but it's partly true," he says. "I really don't want to do the same thing over and over again. I like to have an idea and do it in various ways, but even that isn't going to last more than a couple of years. It's time to change it somewhat. Not drastically, so that no one would recognize it as my work, but change it."